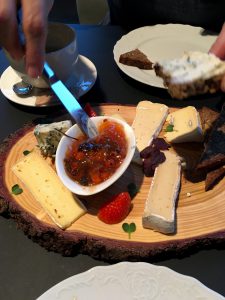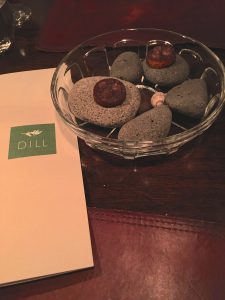 Be prepared to eat well in Iceland, from a 1-star Michelin restaurant in Reykjavik to a little coffee place with pancakes for breakfast on your first day.
1) Many planes arrive in the early morning at Keflavík International Airport (KEF). By the time you get your hotel to store your luggage until check-in it's still an early 7:00am. What to do? Head over with the locals to C is for Cookie for a couple of cups of great coffee with breakfast sitting at the window while you watch the city wake up around you.
2) Wandering around Harpa Concert Hall at lunchtime? Simply head upstairs to Smurstodin. Using seasonal Icelandic grown ingredients you'll find some amazing new tastes. Even ordering a cheese plate landed us with sea berry compote they whipped up that morning.
3) Looking for that 1-star Michelin experience? You'll find it at Dill — the first restaurant awarded that honor in 2017. But plan you must because it's only open Wednesday – Saturday for dinner. Book it asap at https://dillrestaurant.is so you don't miss out.
4) Vöffuvagninn, the waffle wagon! Check out my take on this best ever Belgian waffle under Iceland in November, Part 3. Honestly, I did a desert bang bang (that's when you go out to eat, eat at one place, then go to another place and eat again). First some cake at Volcano House and then at the waffle wagon.
Two Restaurants I Skip.  Yes, it's true and some of the places mentioned are beloved, but hey, it's my humble opinion.
1) Baejarins Beztu Pylsur is the famous hot dog outlet. Even the name translated means 'the best hot dog in town' and everyone raves. On my first time to Iceland made my way to the original stand (there's a number of stands now), stood in line, and ordered one — topped with everything. Now this hot dog is not beef. This hot dog is lamb with bits of pork & beef. Everything on it means onions, ketchup, remoulade, something sweet and another sauce with a name that I've long ago lost track of. Bottom line: I couldn't even finish half of it. Ok, maybe it was the plethora of sauces, or maybe I just wasn't ready for this food concoction. Have I tried it again during my various other Iceland trips? No. I'm just going to continue to skip it. So share your first one with someone to see if you want more.
2) Grillmarkadurinn is a fine establishment that I didn't completely enjoy because of over-sauced and salty meat dishes. Personally, for the price, I continue to skip it when I'm in town.