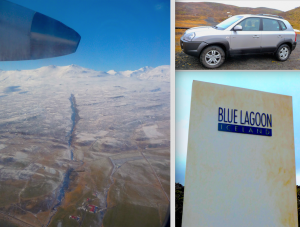 Never been to Iceland? Flying in for the first time?
Arriving & Departing from Keflavik (KEF) airport: Most flights from the USA and Canada arrive early in the morning at around 6am. Most flights from Europe arrive mid-afternoon. Many people will opt for a package that includes a round trip FlyBus Airport Shuttle from the airport to your hotel and from your hotel to the airport. I usually book a one-way ticket from the FlyBus website for an easy arrival. I rent a car for the rest of my stay and drive the car back to the airport for departure. This gives extra time and flexibility on departure day.
What to do: FlyBus will drop you off at your hotel, where you can store your luggage and double-check what time your room might be available. After all that is done, head out the door to C is for Cookie for a couple cups of coffee and breakfast while watching the morning rituals of the locals. By the time you finish your coffee, stores and sights are opening. This is the best time to walk around and get the lay of the land. Hallgrimskirkja, one of the tallest buildings in town, is a great visual landmark–and is a church with an amazing organ. If you're in luck, someone will be playing it as you visit!
What not to do! That's easy! Do not go to the Blue Lagoon on arrival or on departure day. Many tours will have you stop there from and to the airport which is not fun when you're wet and on a schedule. And since most flights depart Iceland for the USA/Canada in the afternoon by 4pm, I always buy my Blue Lagoon ticket for 3pm of the second day and enjoy a somewhat less crowded soak, and if in winter — chance of Northern Lights. That way I can mud up my face, swim up for a drink then find a nice little corner to warm my soul. My Blue Lagoon pet peeve? People who leave their empty plastic cups on the rocks around the lagoon! Be a good tourist and find the trash can. It's the least you can do visiting this pristine island.